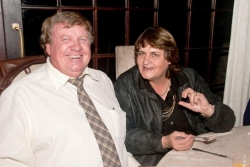 William and Hannatjie Whitlock.
We are in JANSENVILLE, Eastern Cape on the R75.
After been living on the farm since 1978 we've moved to Jansenville !!!.
We sold the farm and are now living on a small holding in town. William was only a toddler when his parents bought the farm, White Hill, in 1955.
Why breeding with dogs??
As toddler I was very scared of dogs, due to a nasty experience with a big dog. My parents reacted to good advice - give Hannatjie her own little puppy!
I was four when the new pup arrived. And for the next 12 years "Bollie", a Min Pin/Fox Terrier cross, was my best friend. The bond I had with him also helped me to trust and love bigger animals, including dogs.
After my marriage to William (at that time a teacher/farmer) in 1978, we bought our first Wire Haired Fox Terrier. Three years later our son Wayne was born.
He was a very sickly baby and mentally handicapped. Caring for him was time consuming as he needed a such lot of special care. I could not go back to teaching and had to spent most of my time on the farm. My late dad bought me a Yorkie male and two females. I started breeding puppies as a hobby to compensate for the difficulties with my own baby. We also bought our first Maltese breeding pair during that time.
Four years later our middle child, Judy, came as a perfect healthy little sunshine into our lives. Two years later, Graeme was born with the same mental problem than his older brother.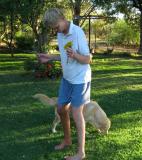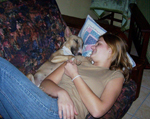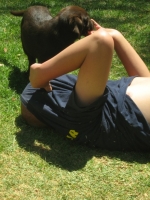 Wayne Judy with Peanut Graeme
Our lives and home were always filled with dogs and pets. This love for dogs, after all these years, became just more intense and each puppy is still a part of you going off. We traveled great distances to choose and buy good breeding dogs. We've spent many nights reading about different breeds to fulfil our dreams since 1978:
Our goal: To breed KUSA registered puppies as lovable pets out of imported/champion bloodlines with good temperaments.
WHAT A WONDERFUL WAY TO TEACH ANY CHILD RESPONSIBILY THOURGH LOVING A PET!!
Ps.



Before we've sold the farm, we bought a lovely old house in Jansenville and changed it into Whitlock's Care Centre. Wayne and Graeme are settled and love the new friends and routine. Thanks to Huis Welverdiend who started this journey with us. The Care Centre is now an independent NPO organization. Save home to 15 residents with similar problems as the boys, 6 trained caregivers and a cook.
William and I are living in an old house on 4,3 h. not far from the boys. It was the first farm house in Jansenville and the original piece of the building dated back to 1818.
Judy and Johan van Zyl are living in Roodopoort with their two boys, Joshua and Callum.